Velkommen til min maleriudstilling i Tromsø Domkirke. Ønsker du mere oplysninger om malerierne, tag venligst kontakt på +45 22871618 eller på mail benteelisabeth777@gmail.com
Søndag den 11.november 2018 kl. 11-15. : Ørsted kro´s venner arrangerer en Nordisk dag med musik og kunstudstilling med malerier af Bente Elisabeth. Velkommen til en festlig og hyggelig dag på denne kro, som Ørsted kro´s venner har fuldstændig renoveret i et unikt fællesskab – og derved skabt et kulturhus nord på Djursland. Vær velkommen – You are most welcome.
Next stop: Exhibition in Tromsoe Cathedral – Tromsoe International Churchfestival You are most welcome to the opening Monday 29.th of October at 5.30. See the whole program for Tromsoe International Churchfestval here: http://www.tikfestival.no/
Tromsoe Cathedral. Some Paintings ready for the exhibition.
Artist Bente Elisabeth . "The Way of Love – Størst af alt er Kærligheden" Bente Elisabeth shows images inspired by "The Way of Love/Kærlighedens Højsang" 1.Corinthians 13.
The Way of Love
13 If I speak in the tongues of men and of angels, but have not love, I am a noisy gong or a clanging cymbal. 2 And if I have prophetic powers, and understand all mysteries and all knowledge, and if I have all faith, so as to remove mountains, but have not love, I am nothing. 3 If I give away all I have, and if I deliver up my body to be burned,[a] but have not love, I gain nothing.
4 Love is patient and kind; love does not envy or boast; it is not arrogant 5 or rude. It does not insist on its own way; it is not irritable or resentful;[b] 6 it does not rejoice at wrongdoing, but rejoices with the truth. 7 Love bears all things, believes all things, hopes all things, endures all things.
8 Love never ends. As for prophecies, they will pass away; as for tongues, they will cease; as for knowledge, it will pass away. 9 For we know in part and we prophesy in part, 10 but when the perfect comes, the partial will pass away. 11 When I was a child, I spoke like a child, I thought like a child, I reasoned like a child. When I became a man, I gave up childish ways. 12 For now we see in a mirror dimly, but then face to face. Now I know in part; then I shall know fully, even as I have been fully known.
13 So now faith, hope, and love abide, these three; but the greatest of these is love.
All elements has their fascination.
Water can be quiet, violent, soft and airy.

You are welcome to visit me at Art Gallery Mols. Open after appointment. Contact mobile +45 22871618 for an appointment. Paintings with Nordic and Arctic inspiration and the theme "Creation".
Velkommen til Galleri Mols. Vi har åbent efter aftale. Mail eller ring for at aftale besøg. Mobil 22871618.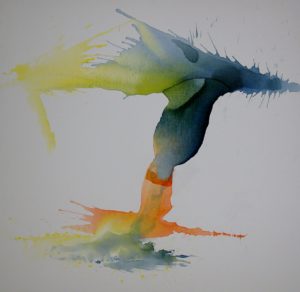 Stiv, stille, brusende, luftig. Vandet har som sindet mange temperamenter, og måske derfor deler de fleste fascinationen af vand. Kunstmaleren Bente Elisabeth er fascineret af vandet som element og motiv.
Bente Elisabeth åbner – efter aftale – sit galleri på Mols for publikum, og i år er temaet altså til dels vand. Man får ikke det hele at se, og noget af det, man får at se, er stadig midt i skabelsen, men sådan er det jo med vand. Det er forunderligt og foranderligt og i bevægelse. Hele tiden.
Kunstneren har altid fundet inspiration i den nordiske og arktiske natur, og for et par år siden var hun involveret i et nordisk projekt og en tværfaglig udstilling, der skulle skabe debat om klimaforandringer; RED SNOW – ICE IN MOTION. Klimaforandringer handler om mødet mellem kulde og varme, om is der bliver til vand. Drypvist, fossende, fordampende, glidende.
Også en del af de nye malerier kredser om vandets bevægelse.
Nogle gange er motivet nærmest meditativt, andre gange voldsomt og brusende. Det giver altid en stemning og vækker følelser.